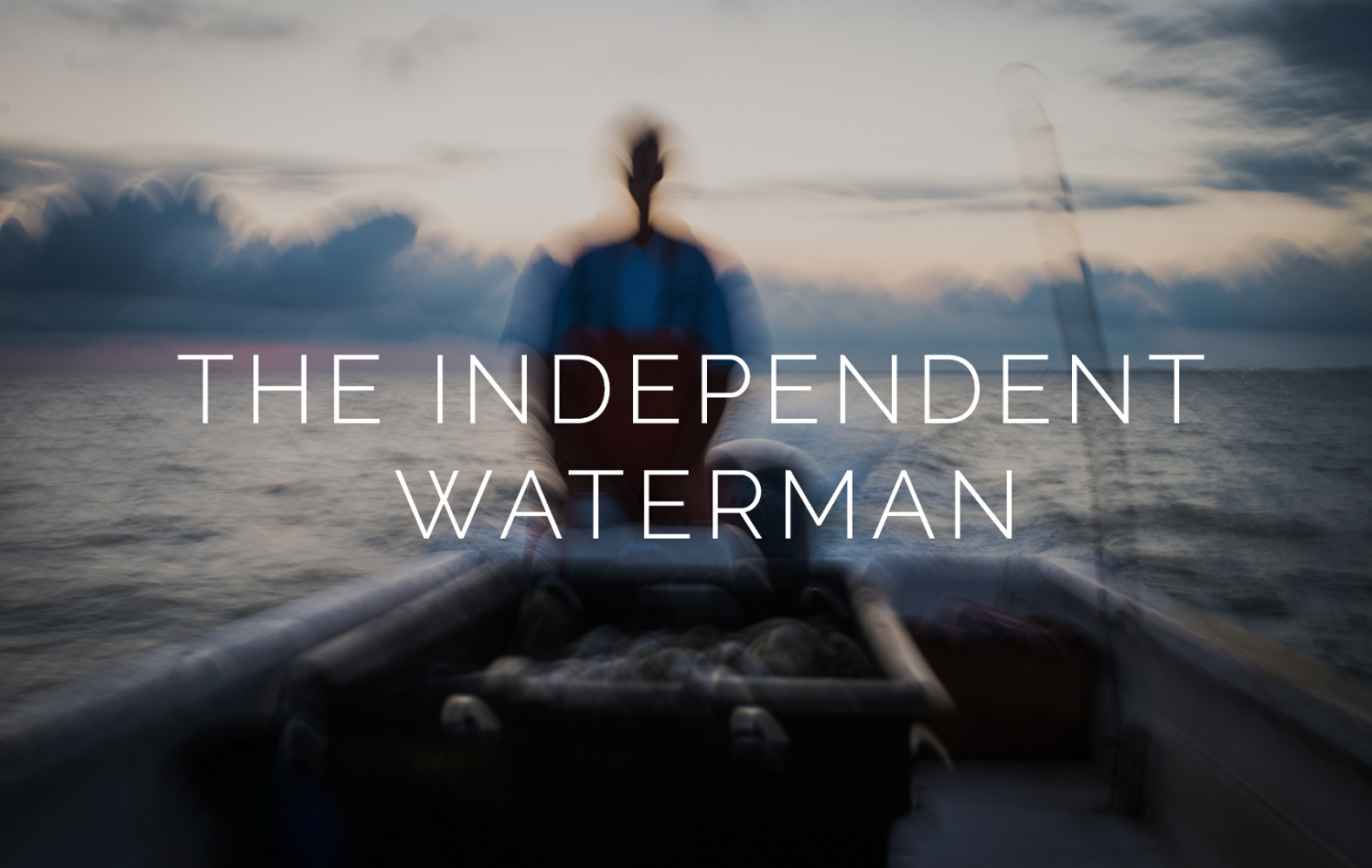 I began The North Carolina Independent Waterman Project (formerly The Hatteras Fisherman Project) when I was hired to document the lives of local watermen (and women) for the annual Hatteras Village Day at the Docks Festival nine years ago. I was immediately "hooked" on the story of this ceaselessly resilient community of watermen and their families. This is a community of hardworking North Carolinians striving to earn a living by sustainably and responsibly harvesting one of North Carolina's great natural resources. And yet, they are caught in a tumultuous rip current of government restrictions, big industry lobbyists, public misinformation, and an increasingly delicate balance with the natural environment upon which they depend. As would be the case, publication deadlines neared and the initial assignment came to an end, but I couldn't leave it at that. The assignment became a project that became a mission to photograph the story of this community and advocate for their way of life.
This site is dedicated to the ongoing progression of The Independent Waterman Project. It is a work in progress. In 2018 I partnered with North Carolina Watermen Foundation to create a traveling exhibit that is being used as an educational tool across North Carolina. We've also partnered with the Graveyard of the Atlantic Museum in Hatteras Village to incorporate a year-long exhibit and education talks throughout 2019. (Check the Graveyard of the Atlantic Museum for dates and times.)

I want to say upfront, I am not an expert on the subject of North Carolina Independent Watermen. I am simply blessed to be able to photograph their story. At the end of this page I've listed resources to which you can turn to find out more about their history, community, and how you can support their way of life.
Thank you to to all of the watermen and their families that have welcomed me into their lives. I hope that these photographs will instill you with an even greater sense of honor and pride in the work that you do. And I have to write a special thank you to Ernie, Lynne, Susan, and Sara for your constant support and direction.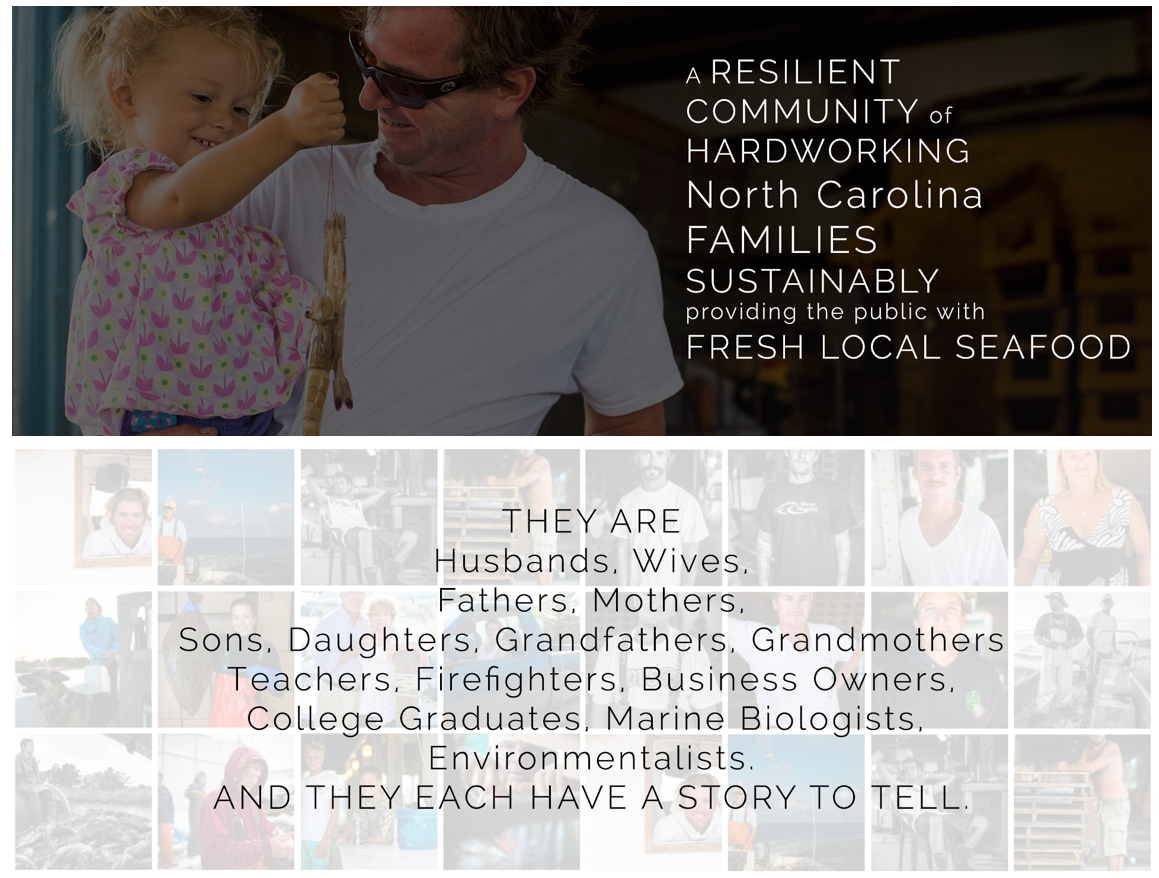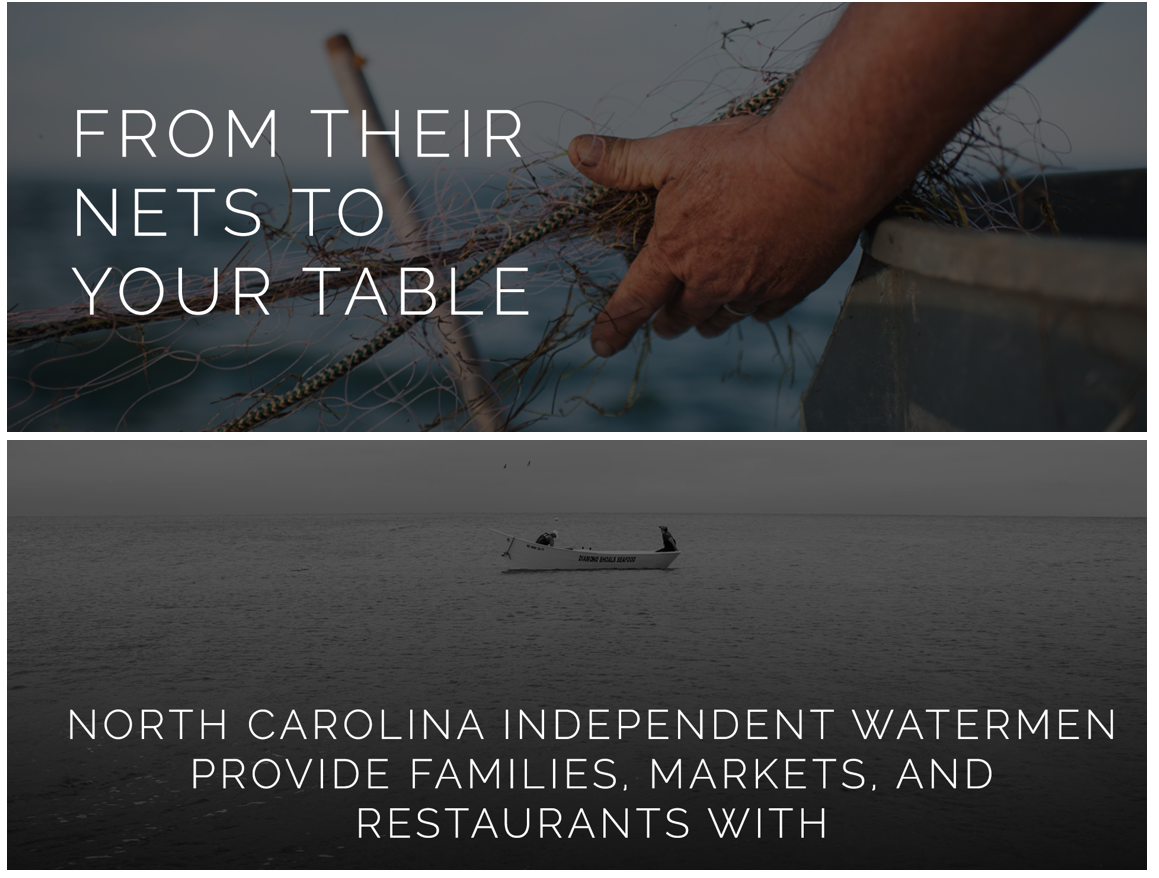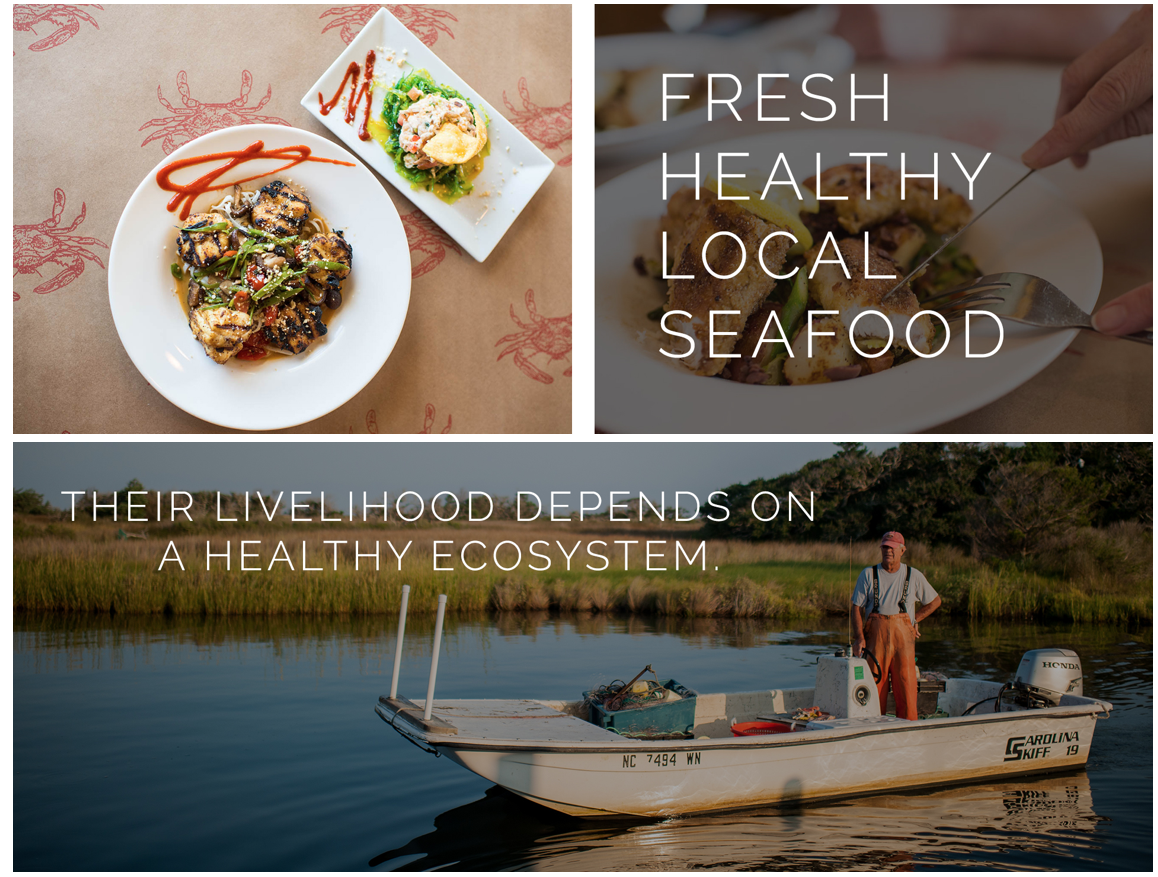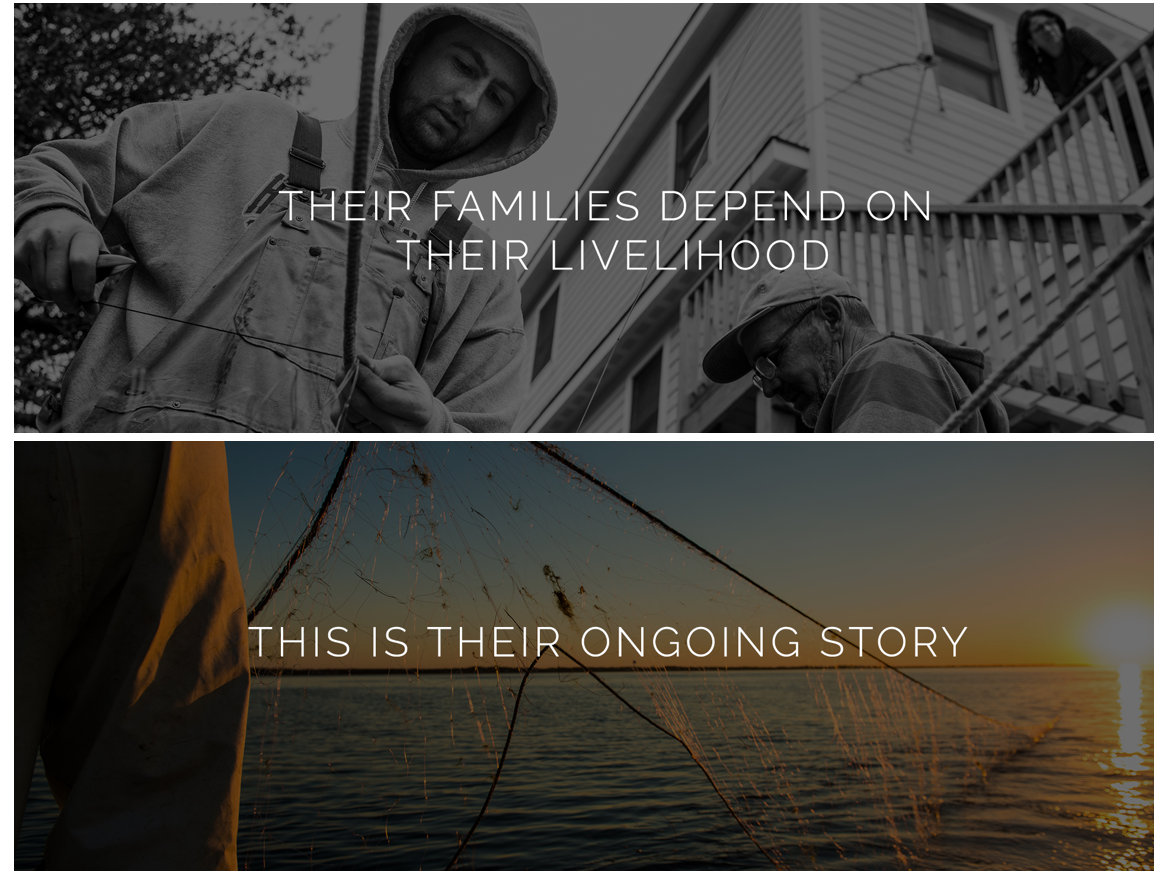 In September 2018 I was part of a collaborative interactive presentation for Talk of The Villages,
an annual panel discussion during Day at The Docks in Hatteras Village.
With support from NC Watermen Foundation, NC Sea Grant, NC Dept. of Agriculture and Consumer Service,
Hatteras Village Civic Association, and Outer Banks Catch, my photographic essay, "Fishing for a Living," was presented to the community.
Accompanied by text (seen below) written by journalist and story collector Susan West, and the with the participation of a panel of local fisherman,
the presentation was the first of many where we will be able to connect the public with the men and women that provide North Carolina Seafood.

Like most other North Carolina Commercial Fishermen, Tony Burbank participates in more than one fishery,
catching hard-shell blue crabs in pots and fill netting finfish in the Pamlico Sound. He also manages a fish house.
The hard-shell blue crab topped the list of commercial species in North Carolina in 2016 with 24.7 million pounds landed.

The crab pot was developed in 1928 in the Chesapeake Bay and first used in North Carolina in 1952.
Pots are made of galvanized chicken wire and have a bottom chamber with several entrance, funnels, and a bait made with fine-mesh wire.
Unable to reach the bait, the crab instinctively swims up towards the surface and winds up in the top chamber
until the fisherman shakes it out through an opening.

The North Carolina sink net fishery dates to the 1920's and began in Hatteras.
Nets were pulled by hand until the mid-1970's when island fishermen began using hydraulic net reels.

Some commercial fishermen inherit a fishing gene. Jeremy O'Neal was a school-kid when he started working at the fish house his father ran.
John Canning's son, John, was only 11 years old when he had racked up enough experience fishing to qualify for his own license.

Gill nets are vertically hung nets that trap fish that swim into it by their gills.
The mesh size of the net determines the size of the fish captured — smaller fish swim through the net and larger fish bump into the net and turn away.
In 2015, southern flounder was the second most valuable commercial fishery in North Carolina, outmatched only by its close relative, the summer flounder.

Michael Peele (above right) is a sixth generation commercial fisherman. At 17 he started working on the beach haul seining for rockfish with his uncle.
Claudia, his wife, began commercial fishing after retiring from her job as a bookeeper. Andy Trant (above left) pulls in a southern flounder from
Pamilco Sound. In additional to commercial fishing, Trant also works as a mate on a recreational charter-fishing boat.

Pound nets are stationary fishing nets assembled on wood stakes. The fish are then funneled into an enclosure called a pound.
Fishermen use a dip net to scoop the fish out of the pound.
Pound nets are set in the summer and fall to catch southern flounder, spanish mackerel, bluefish, gray trout, sheepshead, spadefish, and ribbonfish.

Fisherman Bob McBride arrived on Hatteras Island with a surfboard and a hammer nearly 40 years ago.
He was expecting to work as a carpenter until a chance fishing trip opened his mind and heart to fishing for a living.
McBride fishes from a 25-foot fiberglass boat named John 3:16.
Only a handful of North Carolina pound-netters still fish with the traditional shad boat.
Built of Atlantic white cedar, also called juniper, the shad boat was designated the official North Carolina historic boat in 1987.

Three species of shrimp — brown, pink, and white (green tails) — are caught in North Carolina waters.
As late as the 1920's, watermen scorned shrimp as a nuisance that clogged fishnets and had little market value.
Fishermen cast them aside to be traded for corn with farmers who used shrimp as fertilizer.
World War II boosted shrimp's popularity with consumers because seafood wasn't rationed like other food products.
The development of quick freezing technology expanded market opportunities.

Most shrimp are caught with large nets called otter trawls, named for the "otter boards," sometimes called "doors," used to keep the nets open underwater.
North Carolina fishermen comply with federal sea turtle conservation requirements
including the use of turtle excluder devices, also called TEDS.
They also use bycatch reduction devices (BRDs) that allow unwanted fish to escape.

Dories are small boats, typically ranging from 16 to 20 feet in length. They are built to efficiently jump over waves without taking on water.
Fishermen study the ocean swells to judge when to shove the dory into the water toward the breakers.
Until the 1960s when outboard motors became popular, Outer Banks fishermen rowed their dories through the surf.

Fishermen use dories to set beach seines. A beach seine is a net that encircles the fish. Then, trucks are used to haul back the net to the beach.
Fishermen read the water, looking for a good sign of fish, like diving seagulls or gannets, prior to making a set. In the heyday of the fishery, a crew
member might stay on the beach all night to secure the location for the crew's first morning set.
Beach seines are set in the spring and fall to catch weakfish, spotted sea trout, bluefish, striped mullet, kingfish, and croaker.

The Fish House is the place where fishermen bring in their catch to be weighed, boxed, and distributed.
There are only three fish houses left on Hatteras Island, all in Hatteras Village.

But it's more than that… it's a gathering place- the central place that every fishermen ends up at the end of a day at sea.
It's a place where stories are swapped of good times, bad times, great catches, and not-so-great.
It's a place that locals come just to see what was caught for the day.
For me, it's where I find everyone lets down their guard and relaxes. It's a place where story resonates.

The Independent Waterman Community both supports and depends upon the larger community in which it exists.
It's a mutual relationship of respect, interdependence, and appreciation.
North Carolinian Independent Watermen fuel the productivity and economy of the small coastal communities in which they live.
For this project I have until now, focused solely on the Hatteras Island Community.
In 2018 I'm excited to begin documenting the story of additional North Carolina Coastal Communities.

This is where The Independent Waterman Project began
"The once one-day event began as a way to celebrate the "Spirit of Hatteras" when the village recovered from Hurricane Isabel in 2003
as an intact community, anchored by the commercial and charter fishermen.
The now annual event is a confirmation of the strength of community, heritage and living traditions of the waterman.
The celebration features seafood cooking demos, fishing boats and gear, fishing industry skills contests and competitions,
live music and 'life on the water' games for children."


Each February the North Carolina Coastal Federation hosts a Hatteras Island Oyster Roast at Oden's Dock in
Hatteras Village to celebrate local seafood and a healthy coast while supporting environmental restoration.
The entire community gets involved – from hauling to roasting, serving to eating, young to old, watermen or not.
The Oyster Roast is incredibly important to this project because it brings the community together
to celebrate advocate, and educate for a healthy coast and sustainable stewardship.
This is what I've come to learn embodies the heart of The Independent Waterman.

Living at the Water's Edge, UNC PRESS
Locking Horns with the Future, Outer Banks Magazine
Fishing Photos Bring Insight into the Local Industry's Past and Future, Island Free Press
Daniel Pullen Documents the "Original Marine Biologists", Outer Banks Sentinel
Cape Shark Cook Along, Outer Banks Magazine

As I mentioned previously, I am not an expert on North Carolina Independent Watermen,but I am grateful to have been positioned around people who are.
For more information about North Carolina Independent Watermen, their work, community, resource management, legislation affecting their livelihood, and more,
I encourage you to reach out to these knowledgable resources.
NORTH CAROLINA WATERMEN FOUNDATION
NORTH CAROLINA COASTAL FEDERATION
NORTH CAROLINA WATERMEN UNITED